Home . . . . . . . . . . . . . Gallery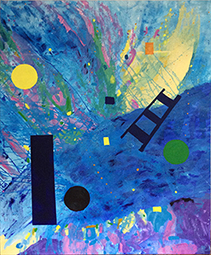 ILham Badreddine Mahfouz:
I am a Syrian-American artist living and working in Michigan. I graduated from Eastern Michigan University with a B.F.A. in Painting and Ceramics and a Minor in Art History. It is of great pleasure that I draw my influences from the old country of Syria and this newer country America; the best of both worlds. My passions are truly a love for all humanity and great faith in God, which gives me strength and keeps me going.
I have been fortunate to win several awards, hold 11 solo art exhibits and participate in more than 100 group art exhibits nationally and internationally. I have several art works on display including my piece 'World Peace' at the Arab-American Museum in Dearborn, MI. Another piece is displayed in Armada, MI. I also have art work displayed at the Cell Museum of Amnesty International Human Rights Museum in Denmark. I have also curated several art exhibits. I really enjoy getting to know artists of the world and dialoguing with them about art.
The world is so vast and yet so small with our reach through the net. We are able to reach people all over the world through art and exchange ideas and learn from one another. A beautiful concept of learning and living in harmony and peace.
www.artistilham.com
ILham.art@gmail.com